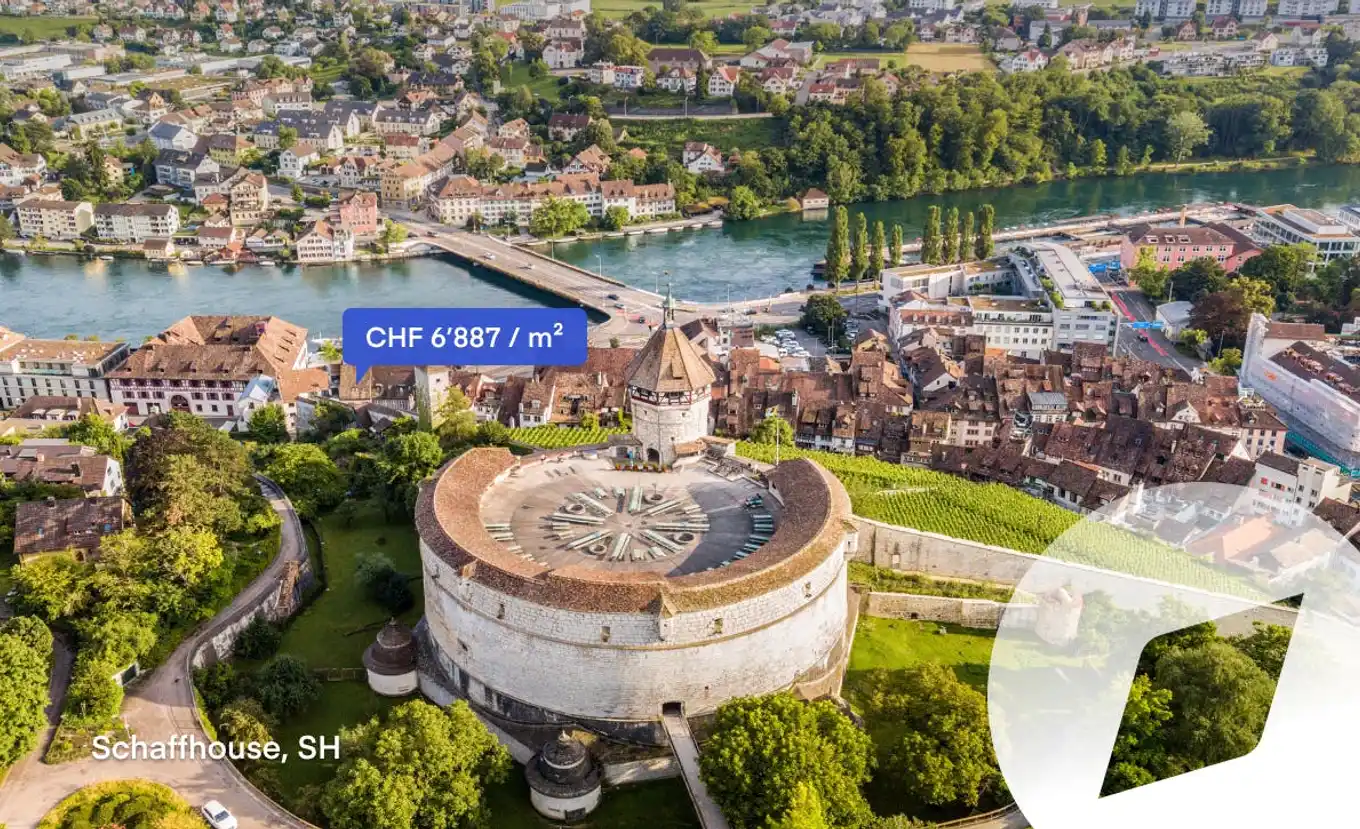 Annual real estate price changes as of 30 June 2022

Average price per m² of houses and apartments
Q2 2022: Price changes in the 15 largest urban areas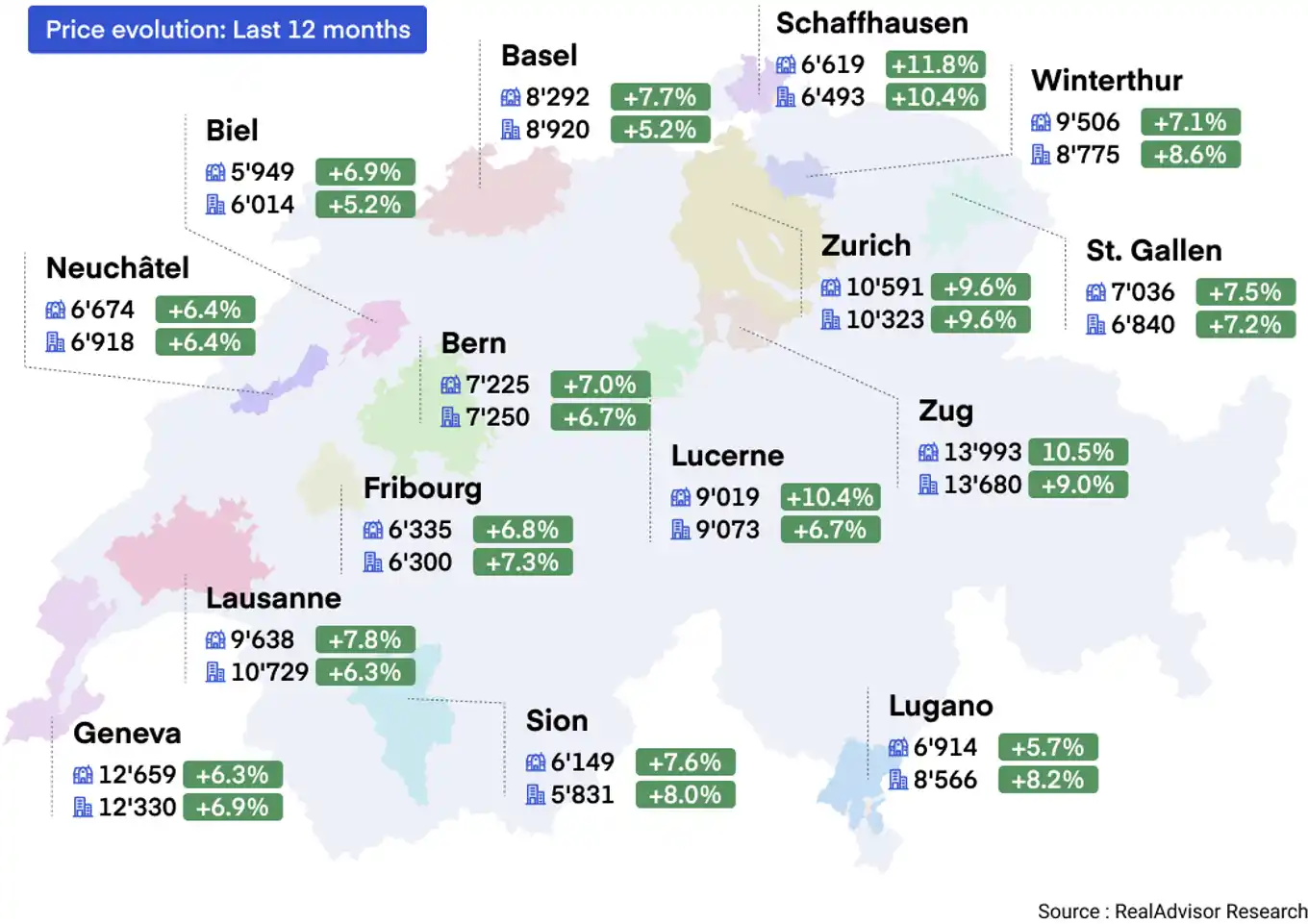 Despite the sudden rise in mortgage rates, real estate prices continue to increase: +7.9% for single family homes and +7.7% for apartments in 1 year. It has never been so difficult to become a homeowner in Switzerland.
Real estate prices continue to rise
This beginning of 2022 is similar to what we have observed since 2021, prices continue to rise rapidly. In 12 months prices have increased by +7.9% for houses and +7.7% for flats.
During this 2nd quarter the price of single homes has increased by +1.6%, this figure is slightly lower than what was observed in the 1st quarter (+1.8%), but still shows a sustained upward trend. For flats the trend is slightly different, prices have risen faster: by +1.9% in Q2 compared to +1.7% in Q1.
For the first time since the pandemic, the price of apartments increased faster than single family homes. Although it is difficult to ascertain the cause at this stage, we can assume that the trade-off between a well-located apartment, versus a house that is more affordable in a more remote location, is less obvious for buyers.
Over the last 12 months, three agglomerations recorded a hike of more than 10% for houses: Schaffhausen +11.8%, Zug +10.5%, and Lucerne 10.4%. The top three are similar for apartments, Zug +10.4%, Zürich +9.6%, and Schaffhausen +9%. The most important gains observed are concentrated in central Switzerland, Glarus and Graubünden.
The rate of price increases is slowing down
Property prices are stabilizing in neighboring countries. In France, prices have appreciated by only +1.7% since the beginning of the year. In the 10 largest cities home values rose by less than +0.5%. In many cases prices are at a standstill: Paris (+0.1%), Lyon (+0.1%), Toulouse (+0%) or Nantes (+0%). In Germany, price for villas also remained stable (+0.1%) during the first quarter of 2022. The value of apartments continues to rise (+1.7% over the quarter) but at a much lower rate compared to the same period last year (+4.1%).
The differences in price changes with our neighbors show that Switzerland has a more stable real estate market. Historically, during the subprime crisis, the French residential market had fallen by almost 10%, while in Switzerland it had only stagnated for 4 years.
Even if the demand remains very strong, for both rental and purchase, it is impacted by inflation and the increase in mortgage rates. Central bank policy rates are expected to rise, in the context of an imminent battle against inflation worldwide.
For future buyers mortgage approval criteria have not changed. However, the sharp hike in prices and mortgage rates make the financial operation less interesting that 6 months back. RealAdvisor experts in the field agree that it took a few weeks for buyers to get used to this new parameters. Nevertheless, for future owners non-financial benefits still outweigh the new costs it represents.
On the supply side, we have seen a +10% increase in the number of properties available for purchase in 3 months. This could be an indicator of a cooling real estate market. However, supply remains very limited and well below what we observed 2 years ago. We do not expect the number of properties offered for sale increasing significantly in the medium term, as the number of building permits has not increased since 2014. Furthermore on the secondary market, the alternatives for relocation are therefore not obvious, even in the rental market, where the vacancy rate is only 1.54%.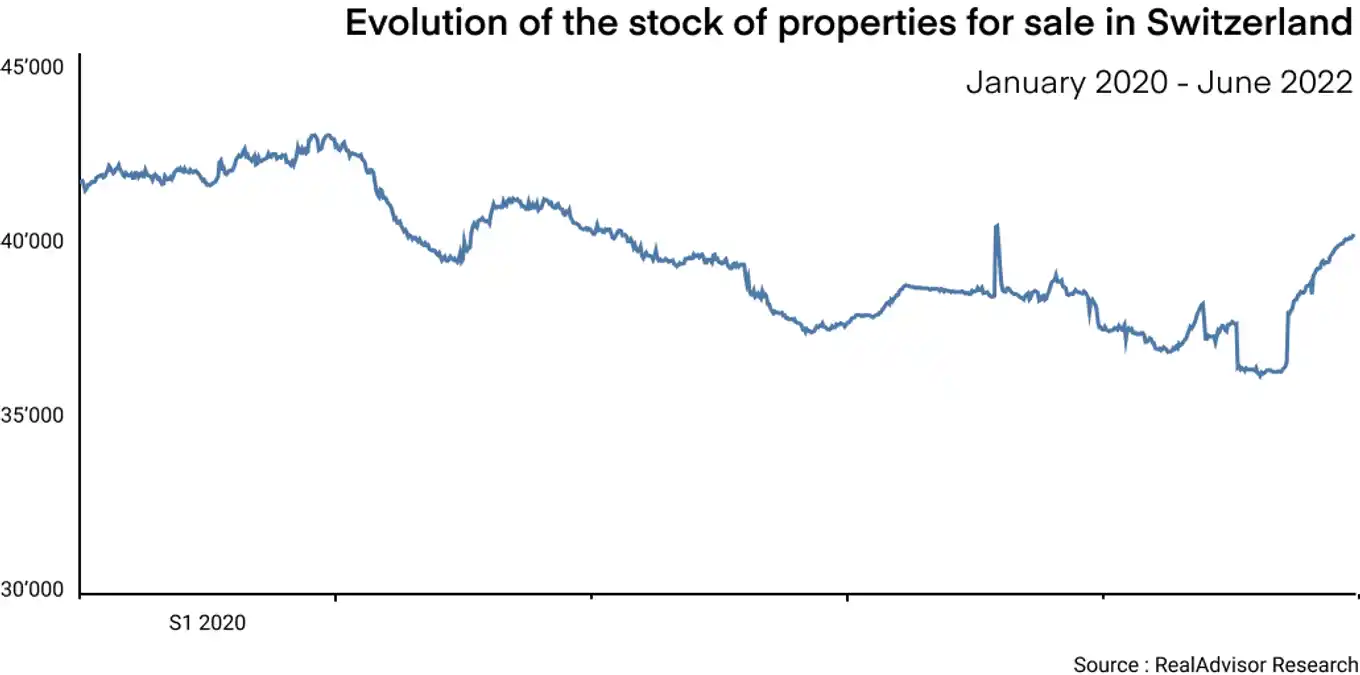 The accessibility of home ownership has become the most complicated since 20 years
In 2022, Swiss residents experienced a real paradigm shift. While it was indeed already very expensive to become a homeowner, the context of low mortgage rates made the acquisition of a home financially very attractive. Today you have to pay twice as much each year to cover your mortgage costs. The speed at which this has changed is impressive. In 30 years we haven't recorded such a fast increase in mortgage interest rates.
For those who had a real estate project, they had to factor in the additional expenses that this would represent. Interest charges have more than doubled in just 6 months for a 10 year fixed rate. However, there are still attractive financing conditions available by opting for a variable rate for all or part of the loan. This solution however, in an uncertain economic context, is not ideal for some.
In addition to mortgage rates, consumer prices inflation (+3.4% in 1 year) and energy prices inflation (+25% in 1 year) have added to the incompressible expenses of households. In the medium term, this has a real impact on the saving capacity of Swiss households. This penalizes potential buyers seeking to gather the necessary equity to finance a property.
Access to property therefore seems less advantageous today than it has been in recent years. In some cases, it is even more expensive than renting in the medium term. Even if posted rents have increased in 2022, after 6 years of downward trend, it seems that benefits of homeownership will not be as great in the years to come.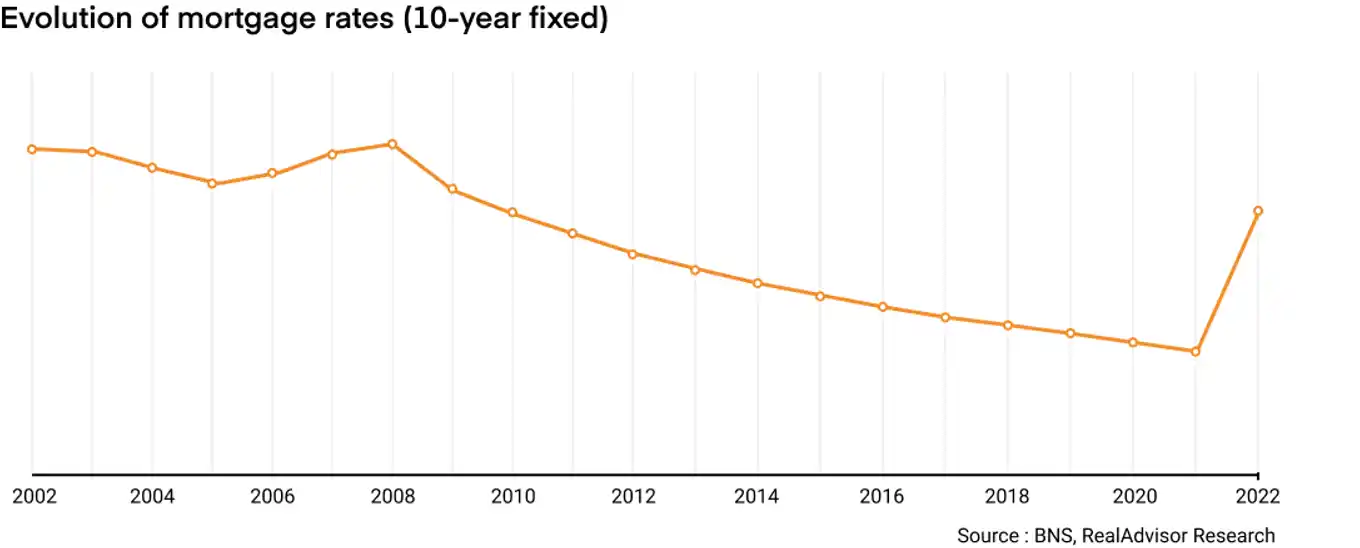 Agglomerations: Evolution of house and apartment prices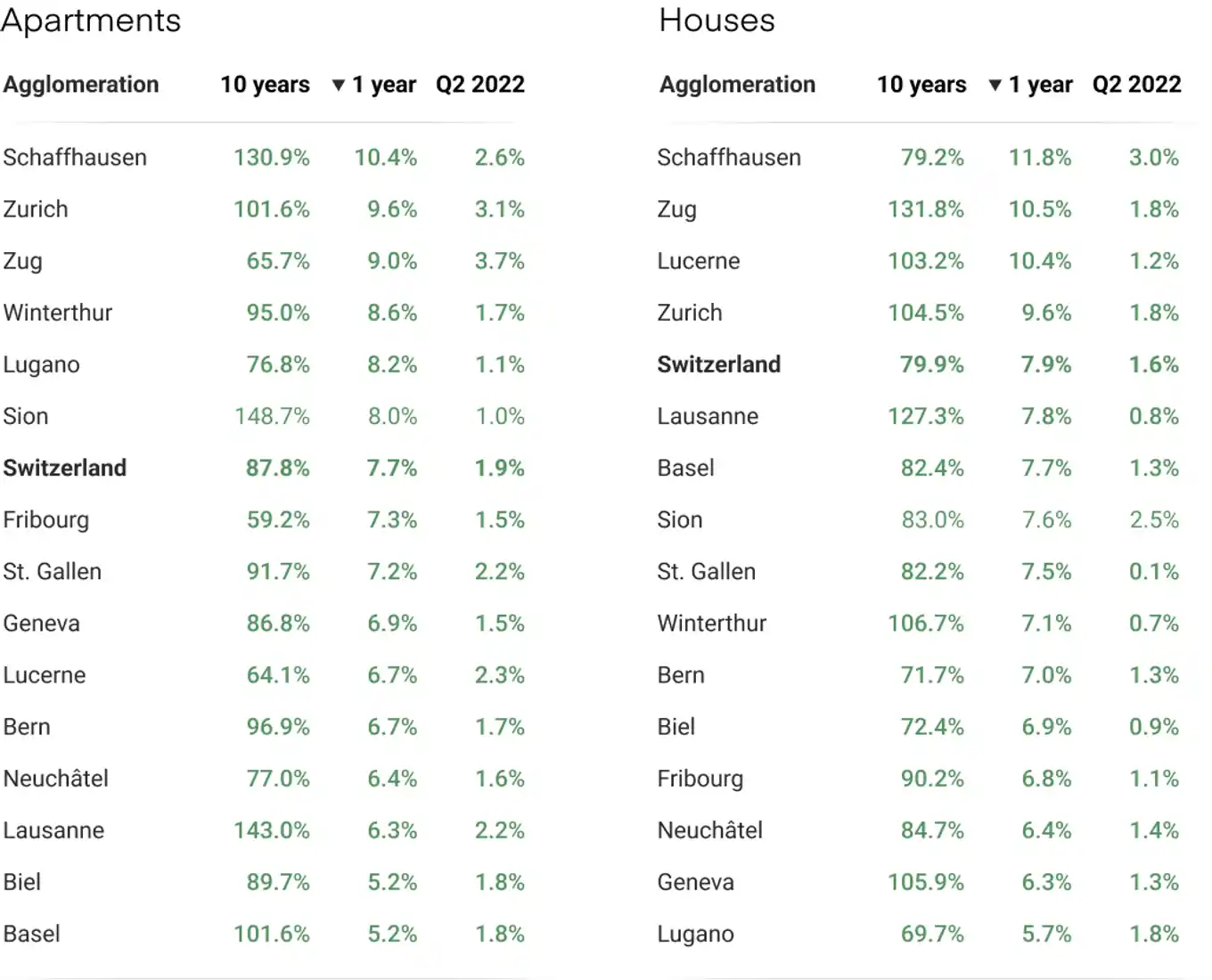 Cantons: Evolution of house and apartment prices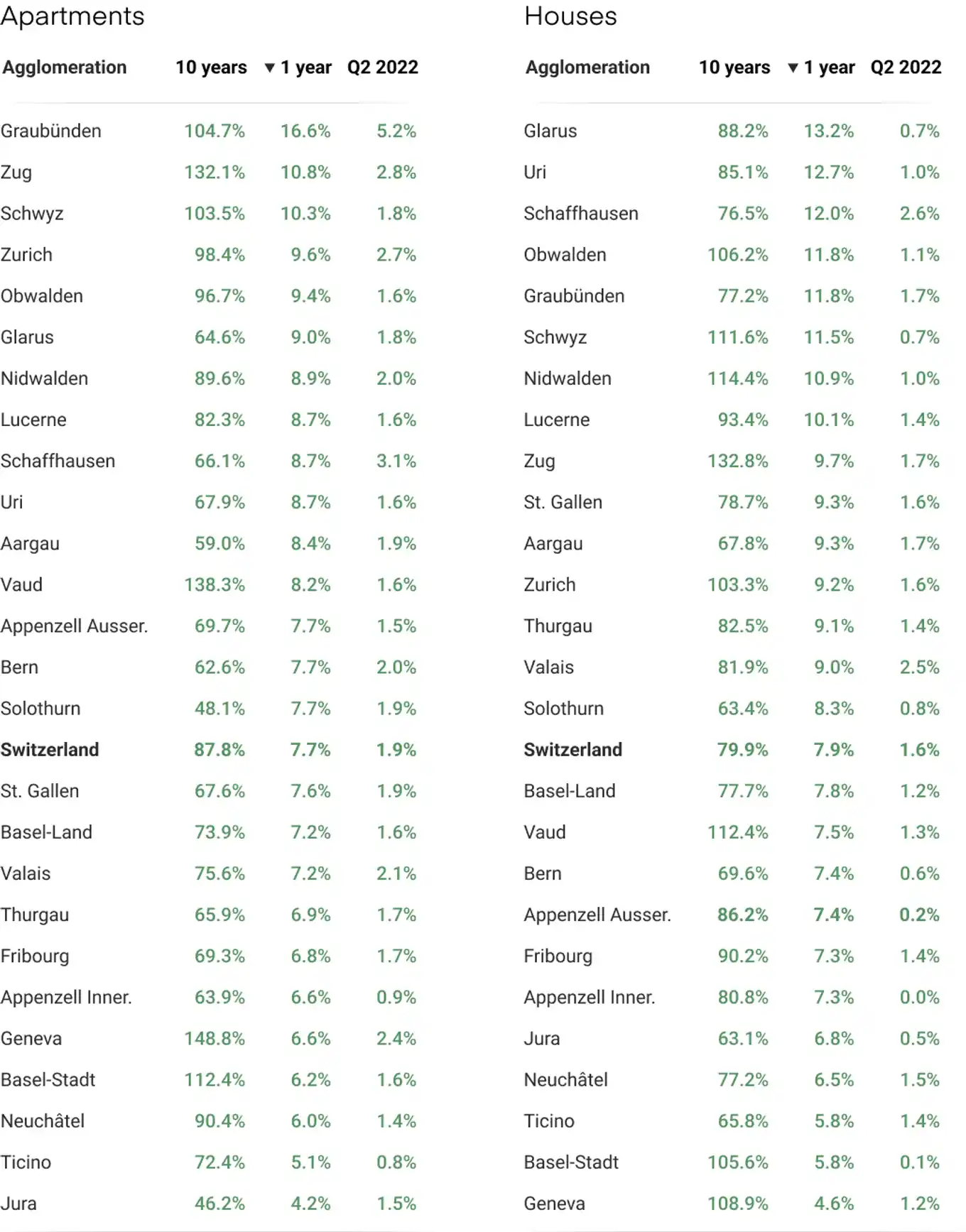 Additional information
Legal information
RealAdvisor is the commercial brand of the legal entity "AI Partners SA", a limited company headquartered in Geneva.
RealAdvisor
c/o AI Partners SA
Avenue Louis-Casaï 86A
1216 Cointrin
Switzerland