In 2021, Swiss real estate prices rose at their fastest pace since the turn of the century
Apartment prices rose by 5.2% in the first three quarters, and single-family homes prices by 6.2%. But the situation seems to be stabilizing.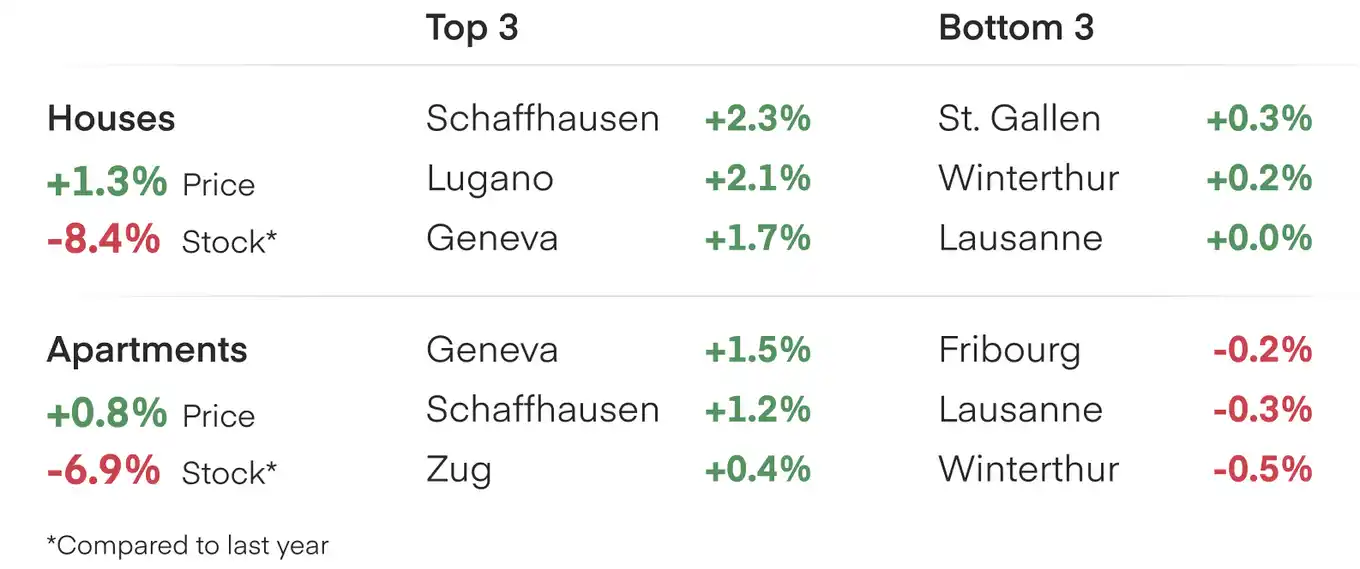 Average price per m² of apartments and houses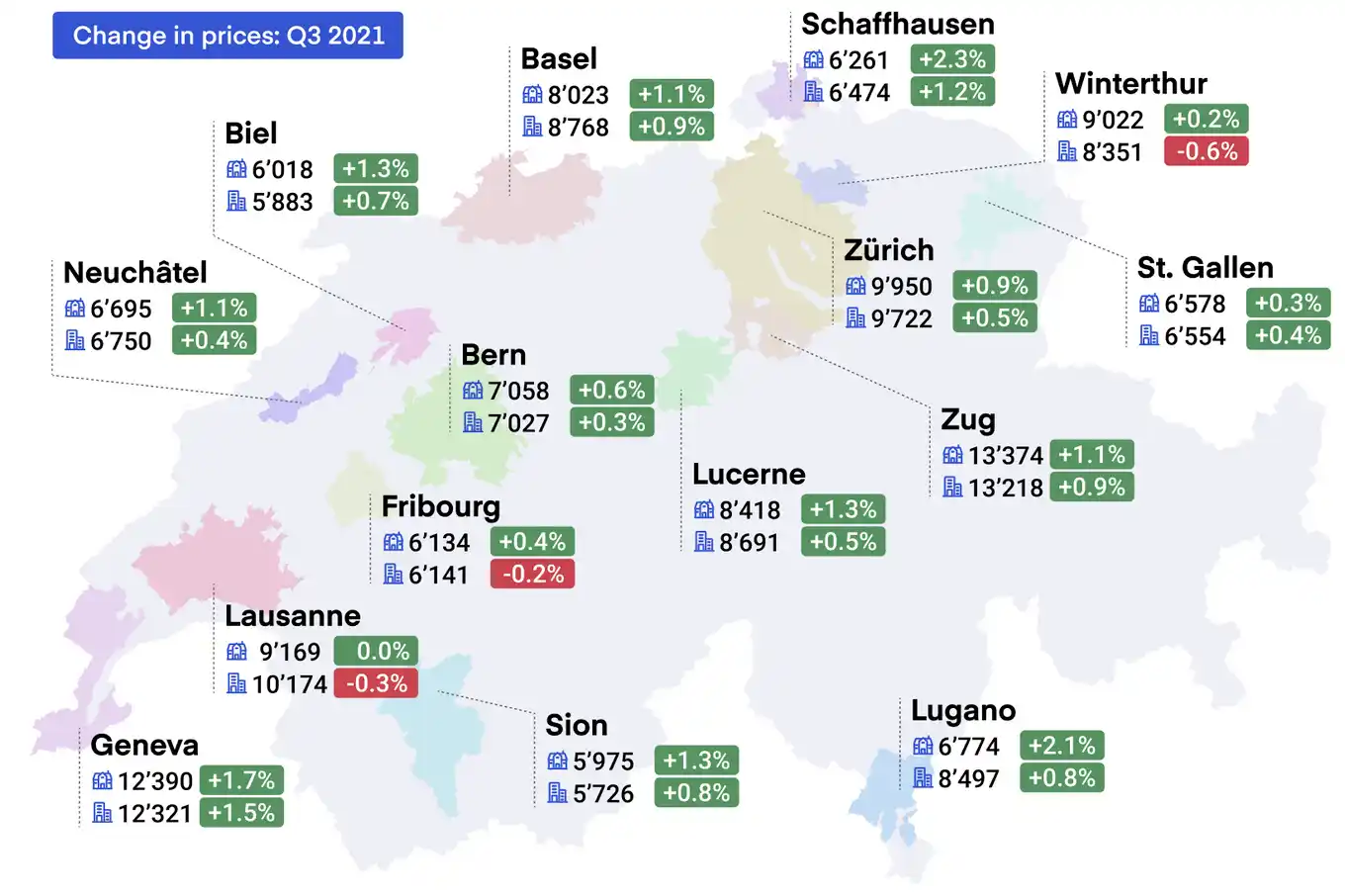 A record year, but prices are stabilising
Swiss residential real estate is experiencing one of the strongest price increases since the begining of the century. Although prices are still rising, the increase was only +1% in the third quarter. The rate of increase is thus slowing down considerably compared to the previous four quarters. Nevertheless, with a growth of +5% since the beginning of the year, 2021 remains a record year.
Property prices are still on the rise. This impressive increase, already observed in 2020 (+3.9% for apartments and +4.6% for single-family homes), is set to become historic in 2021: in the first nine months of the year, it has already reached +5.2% for apartments and +6.2% for single-family homes.
This upward trend is apparent throughout the country. If we consider the most numerous properties (apartments) over the nine months of 2021, the increase is sustained in cities such as Bern (+3.4%) or Basel (+3.7%) and it accelerates significantly in the country's most dynamic agglomerations: +5.1% in Lausanne, +5.7% in Zürich and up to +6.2% in Geneva.
In comparison, the year 2010 - which until now has been the record of the century - saw extraordinary increases of +4.3% for apartments and +5.7% for single-family homes. But the quarter that has just ended marks a clear slowdown in this upward trend. Between July and September of this year, prices rose by "only" 1% on average nationwide.
In detail, the apartment market is seeing prices stabilising with a slight fall in Winterthur (-0.6%), Lausanne (-0.3%) and Fribourg (-0.2%). Only the Geneva region is still experiencing a pronounced increase (+1.5%), ahead of Schaffhausen (+1.2%) and Zug (+0.9%).
For single-family homes, several agglomerations are showing a slowdown in price increases compared to the last four quarters. However, most agglomerations show increases above +1% with Schaffhausen (+2.3%) and Geneva (+1.8%) leading the way.
Several indicators, such as decreases in the supply and in new constructions, as well as the resurgence of inflation, suggest that the upward trend will continue for the next few years.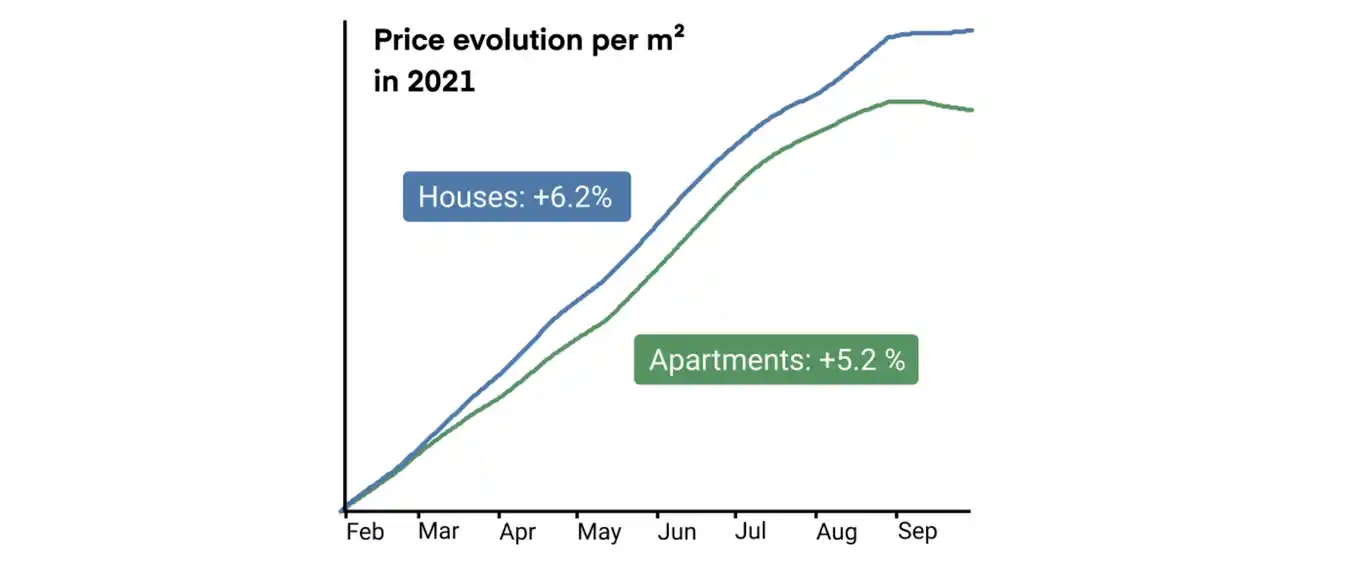 Sharp decline in offers on the market
This constant increase in prices, even if it shows a more moderate pace this quarter, attests to a demand that remains strong. But it also points to a supply that is tending to shrink further. Over the last twelve months, the stock of properties available on the market has indeed decreased by -7 to -8% on average nationwide.
The decline in the stock of apartments for sale is particularly striking in Biel (-31%), Zug (-26%) and Lausanne (-23%). The decline in the number of properties for sale is even more impressive in the single-family home market: in Zug (-58%), Neuchâtel (-45%), Schaffhausen, (-38%) and Geneva (-28%), the supply of properties for sale has fallen by an even greater margin.
Geneva (-28%) is impressive at first sight. However, it should be noted that in small towns such as Zug, where there are barely fifty houses for sale in total, the slightest variation immediately takes on relatively large proportions.
The exceptional case of Lugano should be mentioned. In the city of Ticino, there is an abundant supply of all property types, but demand remains very low. Despite this situation, prices are not falling.
Single-family homes continue to outperform apartments
The statistics confirm, as it has been the case for several years, that prices per m² of single-family homes are rising faster than those of apartments. This is apparent throughout the country. On average, over the last twelve months, prices per m² have risen by +11.5% for single-family homes, compared with +9.9% for apartments.
When analysing comparable properties (5.5 rooms), this trend is particularly evident in Bern, where prices per m² for single-family homes, have soared by +12.3% in one year, compared with +7.1% for apartments. Even if it is less pronounced, the trend is confirmed in the majority of cities, such as Lausanne (+12.2% vs. +10.6%) and Basel (+8.8% vs. +7.5%).
One of the explanations for this is the fact that in these urban areas, mainly apartments are being built rather than single-family homes. If we look at this evolution in detail, the amount of houses in construction is stagnating or even decreasing, particularly in large cities. The examples of the cantons of Vaud¹ and Zürich² are very clear: in 2019, in these two cantons, the amount of newly-built single-family homes dropped almost by half compared to ten years ago.
This situation is likely to sustain prices in the agglomerations and continue to impact neighbouring municipalities. In order to become homeowners, many of their inhabitants will have to choose between moving into an apartment or moving to more distant municipalities. With the latent increase in remote work, these buyers may therefore decide to move their main residence to outlying areas.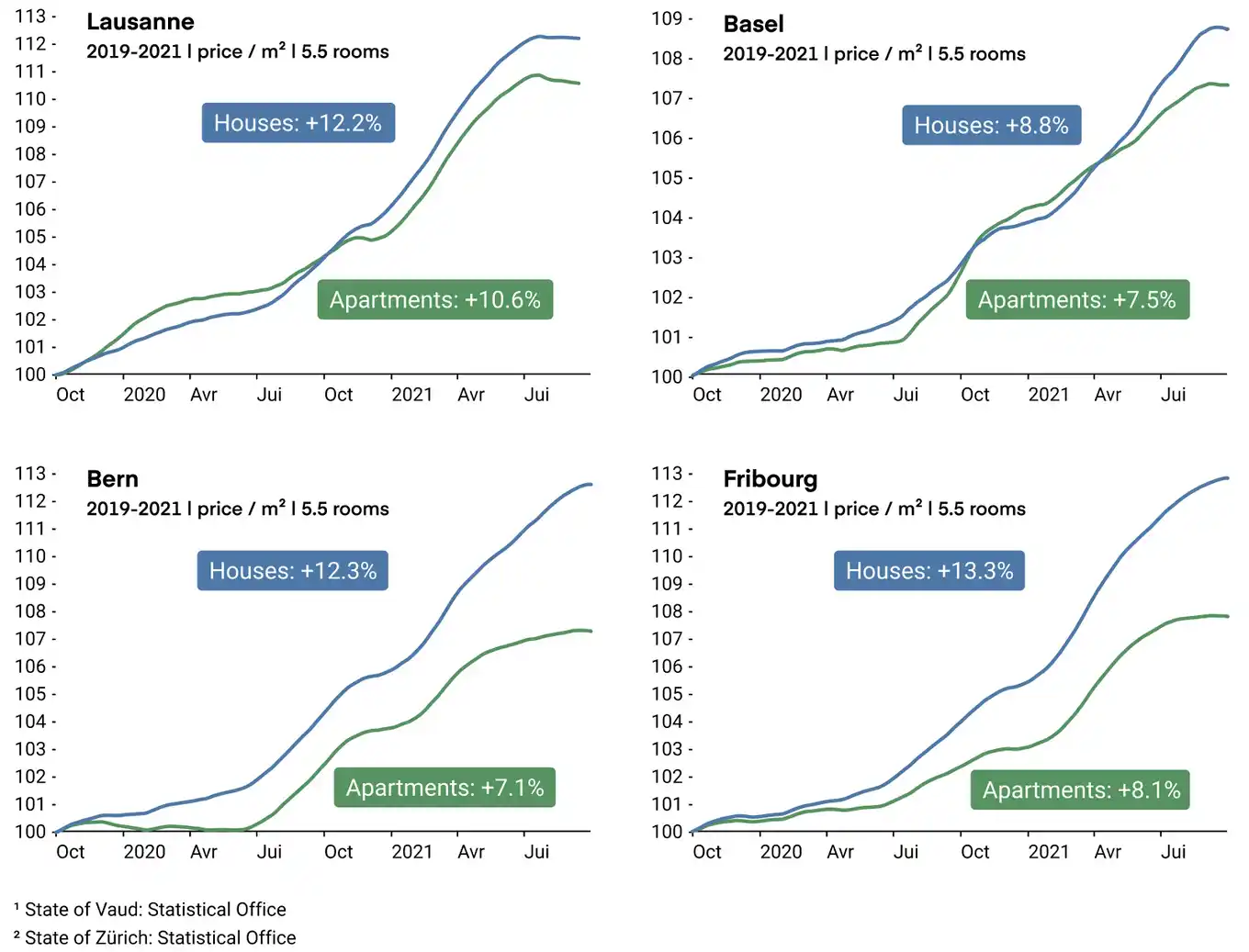 Price evolution in the fifteen major Swiss agglomerations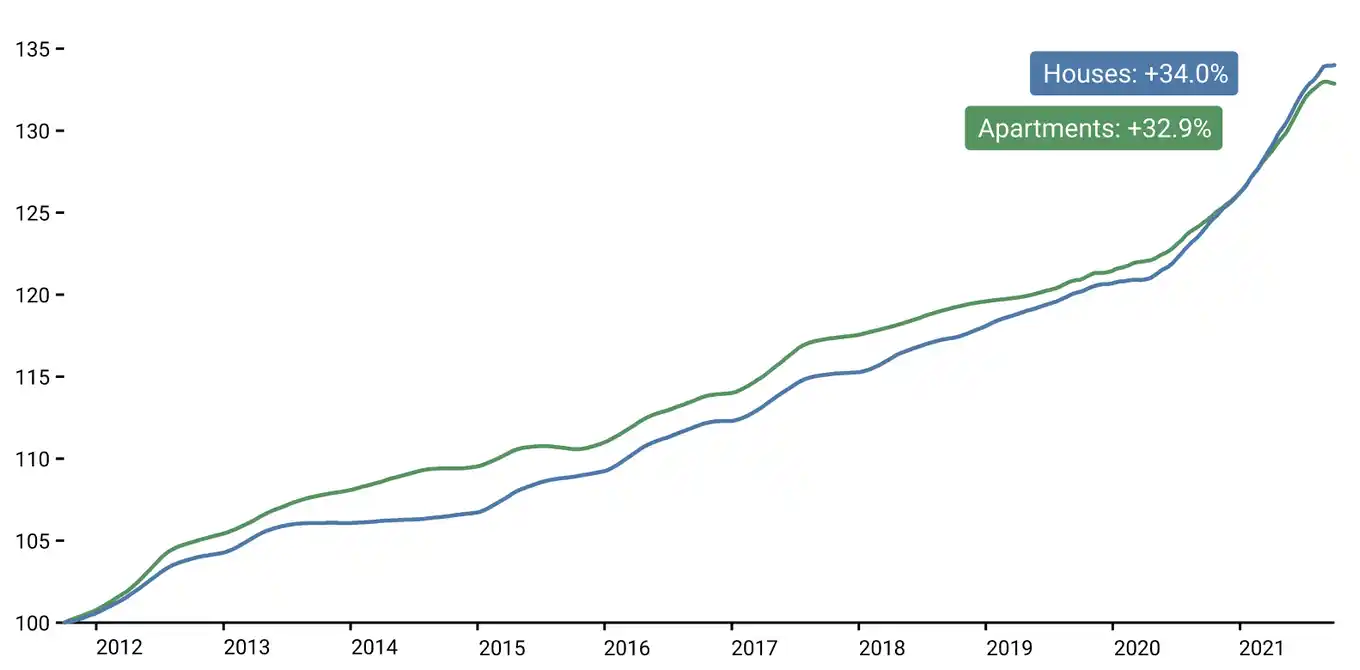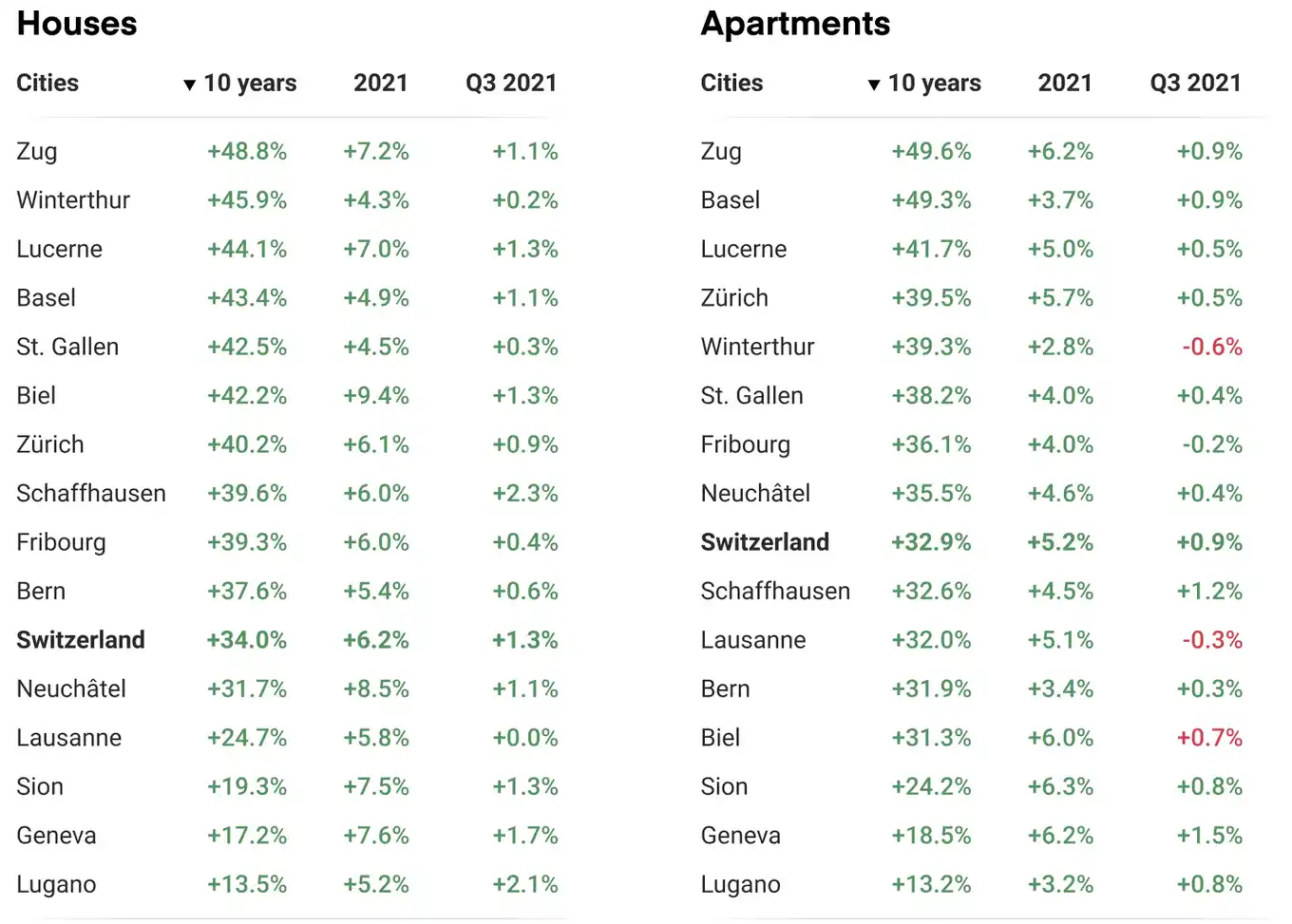 Variation in supply over the last 24 months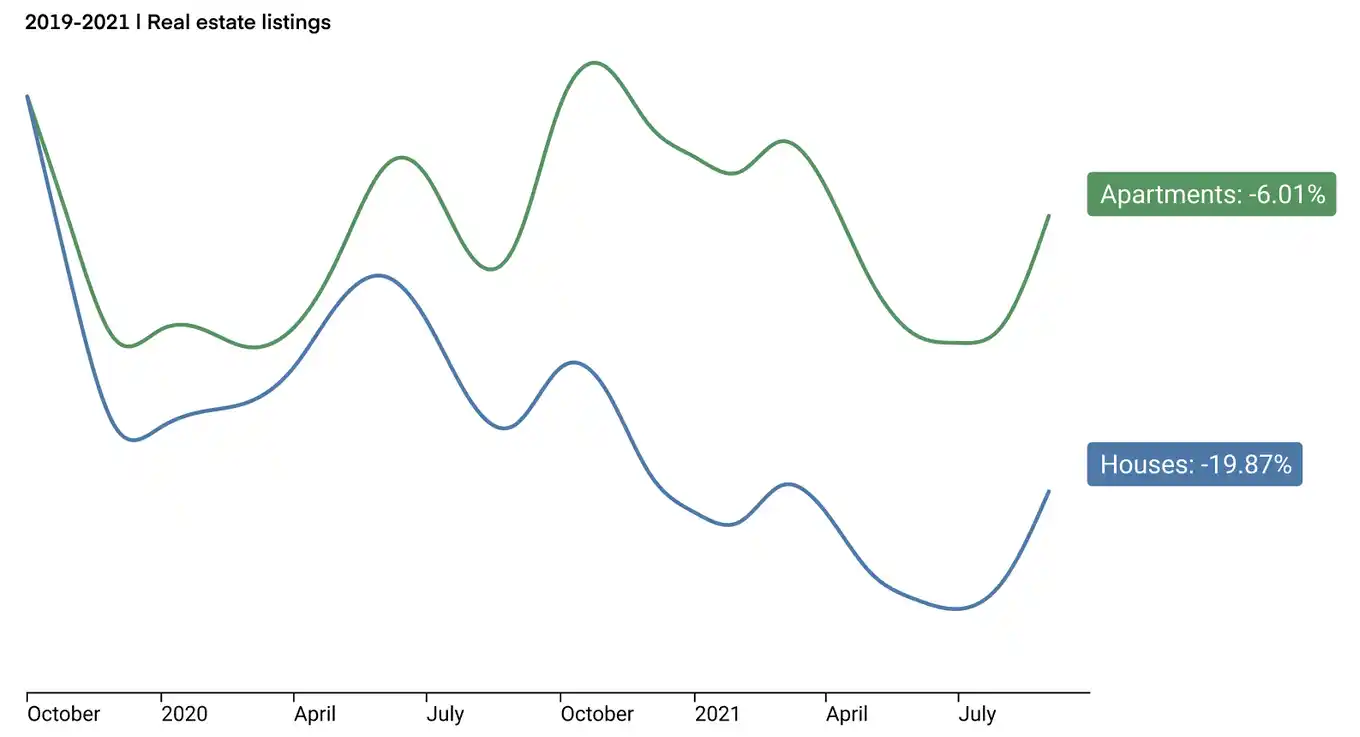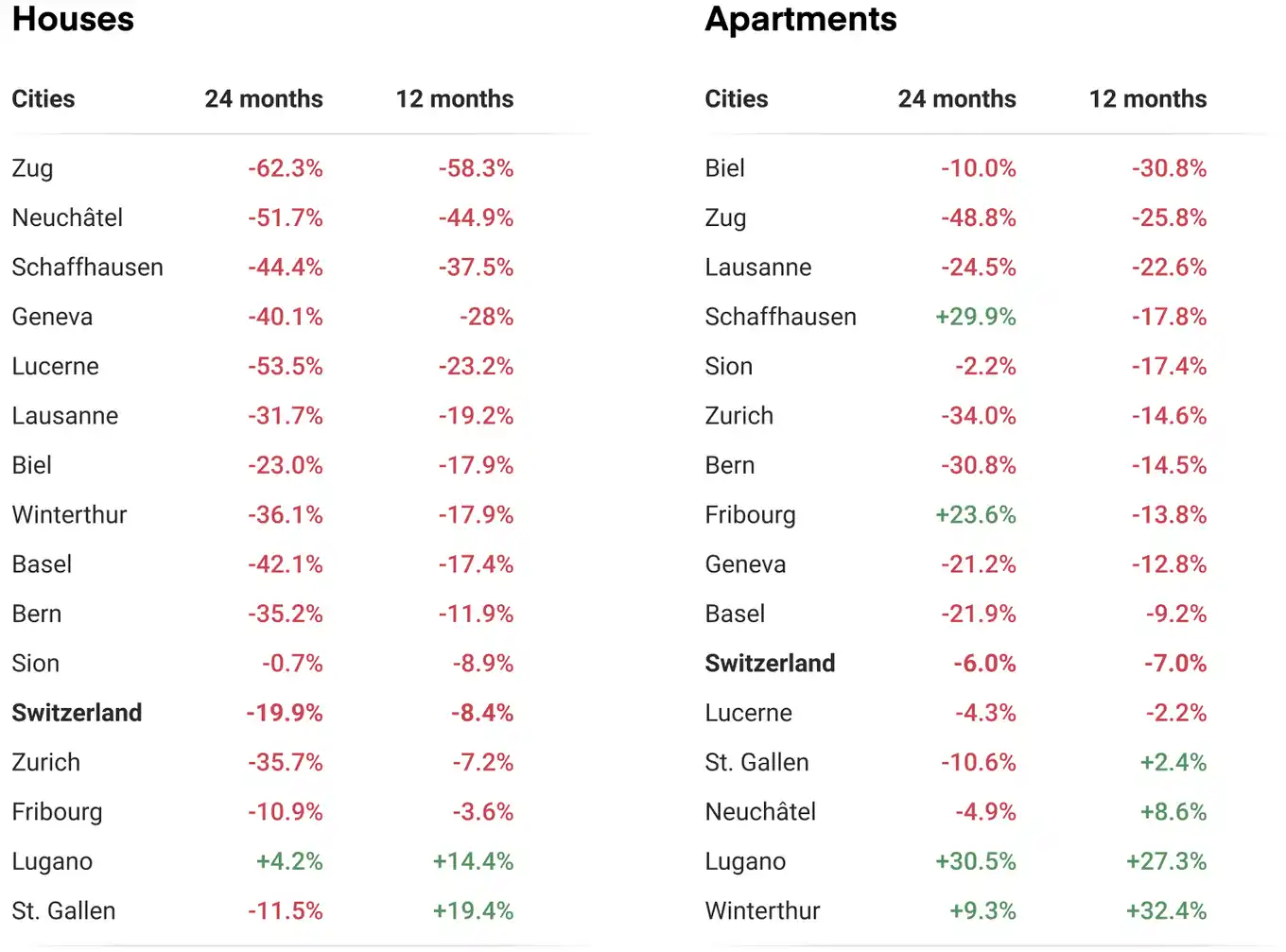 Additional information
Legal information

RealAdvisor is the commercial brand of the legal entity "AI Partners SA", a limited company headquartered in Geneva.
RealAdvisor
c/o AI Partners SA
Avenue Louis-Casaï 86A
1216 Cointrin
Switzerland